SJ Joinery and building have recently completed the refurbishment of an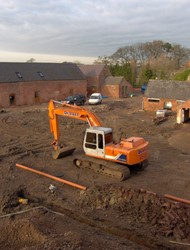 Agardsley Park Farmhouse for the Duchy of Lancaster Needwood Estate in Staffordshire. SJ Joinery were awarded the project after a competitive tendering process, and this is the latest of numerous projects that we have undertaken for the duchy of Lancaster over several years.
Works involved, structural alterations, roof repairs, new hardwood sash and casement double glazed windows and doors, new oil fired heating system, new sanitary ware etc.  Complete electrical rewire, installation of Hetas approved log burners, insulation to all walls, floors and ceilings,
new internal joinery and kitchen, decorating throughout, alterations to drainage and landscaping.
The project was completed ahead of schedule and below budget.