S.J. Joinery are presently building 2, 4 bedroom semi-detached
houses at Stanley Common.
This is a new build project for our sister company Blackbrook Developments, the project i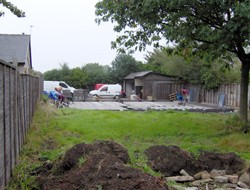 s due for completion in March 2011 and the properties will added to Blackbrooks rental portfolio.
The site was acquired by Blackbrook Developments some years ago with an adjoined property and planning permission for 2, 2 bedroom properties which was later changed to 2, 4 bedroom properties.
The building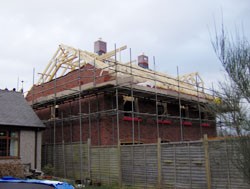 have been designed sympathetically to match existing adjacent buildings after consultation with the local authorities, the houses are 3 storey construction with dormer windows, careful consideration was taken over the choice of materials to ensure that the buildings are aesthetically pleasing and to the highest standards of design, The site is registered with the NHBC.